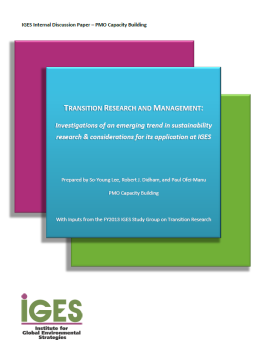 During fiscal year 2013, the PMO Capacity Development/Building investigated the emerging trend in sustainability research referred to as both transitions research and transition management. Included in this work, an IGES transition study group was organised which met over a period of five weeks during November and December 2013. This discussion paper represents the findings of both the desk-based study conducted by the CD/CB team and the summative outputs of the transition study group.
A Transition Approach to research is seen as fitting with IGES's mission to act as an agent of change for progress towards and sustainable and resilient society and the overall objective to help in creating a new paradigm to realise this global transition. Nonetheless, a transition approach will raise several considerations that could on surface seem at odds or in conflict with IGES's modus operandi. This discussion paper tries to bring light to these potential conflicts and to also elaborate means in which various aspects of a transition approach can be operationalised in IGES research activities in a smooth, integrated manner.
Section 1 of this paper provides an overview of the transitions literature and the emerging roles of transition research and management. Section 2 discusses the types of research methodologies and methods that are appropriate to a transitions approach. Section 3 covers the major points of discussion raised by IGES staff during the transitions study group. Section 4 concludes with several recommendations regarding how a transitions approach in IGES research activities.
The recommendations in section 4 cover both the theoretical or philosophical considerations IGES will need to make if there is a desire to strongly adopt and frame a transition perspective within our work as well as the practical action points that could be applied in strategic planning, research activities, and networking and capacity building operations to enhance IGES's roles as a change agent for sustainability transitions. Recommendations are made in relation to three distinct components of the transition approach:
• Transition Theory & Perspective: A broad understanding that the means for achieving social change that meaningful for sustainability are not naturally occurring, but can be harnessed and facilitated through greater clarity on the driving factors/institutions for achieving such change.
• Transition Studies & Research: Attempt to examine and clarify the driving factors and institutions that underpin the success of sustainability transitions.
• Transition Management & Governance: Aim at facilitating processes (ideally across multi-perspectives and with multi-stakeholders) to support the development and implementation of meaningful sustainability transitions.
The recommendations also consider three main issues: 1) the relevance of a transition perspective in IGES research, 2) the possibilities for incorporating a transition approach in IGES research, and 3) the need to develop a transition framework for IGES that will help in operationalising our role as an agent of change. Following this, a total of twenty practical action points are elaborated that could be applied to integrate a transition approach into IGES's research. Generally, these action points cover the four areas:
• How to apply a transition perspective in planning impact/influence strategies?
• What are the different ways to apply a transition research approach within the design and implementation of our research activities?
• How to apply a transition management approach in our stakeholder engagement, networking and capacity development activities?
• How to increase the impact value of our recommendations by framing them in relation to our efforts to promote sustainability transitions?
Remarks:
This publication includes inputs from the FY2013 IGES Study Group on Transition Research