Event: The 7th IWA-ASPIRE CONFERENCE 2017 & Water Malaysia Exhibition 2017
Date: 11-14th September 2017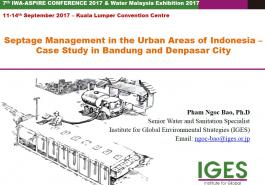 This paper provides the results of baseline study for a better understanding on septage management across all stages of the sanitation service chain in urban areas of Indonesia through case studies in two big cities, namely Bandung and Denpasar. Consequently, it helps to identify opportunities for further improving performance of septage management system through its sanitation service chain. In addition, based on the results of the sudy, Septage Flow Diagrams (SFDs) have been established for studied cities, which provide new and innovative ways to engage sanitation experts, political leaders and civil society in coordinated discussions about septage management at the city level.
Event: The 7th IWA-ASPIRE CONFERENCE 2017 & Water Malaysia Exhibition 2017
Date: 11-14th September 2017